IQ Impulse Adjusting Instrument
If you suffer from any of the following the IQ Impulse may benefit you.
-Low back pain -Whiplash Injuries
-Sciatica -Shoulder,Arm, or Wrist Pain
-Disc Problems -Carpal Tunnel Syndrome
-Hip,Knee, or Foot Pain -Scoliosis
-Neck Pain -TMJ
-Headaches -Fatigue
-Numbness -Muscle Spasms or Soreness
The IQ IMPULSE provides gentle and precise computer-aided chiropractic adjustments to relieve pain and restore function. The impulse IQ is controlled by micro-computer circuitry housed within the device that produces a controlled force that chiropractors can use to treat different area of the body. This then gives the doctor objective feedback about how your problem area is responding .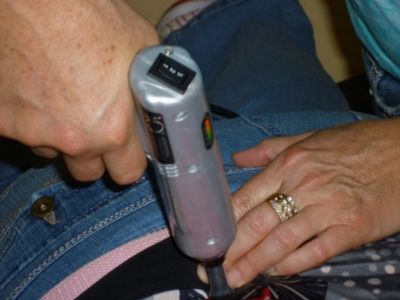 Extreme Speed:
IQ IMPULSE is twice as fast as other adjusting instruments. The gentle thrust is faster than the body's tendency to tighten up and resist adjustment.
Controlled Force:
The IQ has 3 different force settings for different parts of the body and to treat patients of all ages. The controlled low force thrust of Impulse make treatments comfortable.
Computerized Adjustment:
High-tech computerized adjustments with Impulse IQ actually precisely measure how the spine is moving during the treatment so that just the right amount of care can be provided.
(Neuromechanical Innovations)