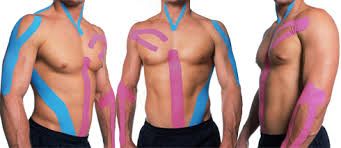 WHAT IS KINESIO TAPING?
The Kinesio Method is designed to promote the body's natural healing process while allowing support and stability to muscles and joints without restriciting the body's range of motion. Taping has been known to successfully help with many orthopedic,neuromuscular,neurological and medical conditions. There are several different ways that the tape can be applied and has the capability to re-educate the neuromuscular system, improve performance, decrease pain and irritation,prevent injury and improve circulation and healing.
HOW IT WORKS:
Kinesio taping is made to speed up the body's natural healing process and to administer prolonged soft tissue manipulation to increase the benefits of manual therapy conducted within the clinical setting.By focusing on different receptors within the somatosensory system, the tape eases pain and promotes lymphatic drainage by microscopically lifting the skin. By doing this, it forms convolutions in the skin that increase interstitial space and allow for decreased inflammation..
Before After
Lymphatic Function: removes congestion of lymphatic fluid or haemorrhages (bruising) under the skin. Stimulates the mechanisms that facilitate the movement of lymphatic fluid.
Skin Function: relieves pain or abnormal feeling on the skin and muscles, stimulates the skin.
Fascia Function: return homeostasis to the fascial matrix.
Muscle Function: supports the muscle in movement both for weak and tight muscles. Elastic properties of the tape replicate and enhance the function of muscle fibres and tendons.
Joint Function: corrects misalignment of the joint. Improves alignment of structure through its affect on muscle layers and pain therefore enhancing correct posture.
Kinesio tape can be used on:
-Neck -Shoulder -Wrist -Arm
-Lower back -Hip -Knee -Ankle
-Feet -Upper back -Elbow
Kinesio tape and the Kinesio taping method has been seen in use during numerous Olympic games, most recently the 2008 games in Beijing. You may have also seen it in use during any collegiate and professional sporting events worldwide. The Kinesio taping association has trained thousands of practitioners across the globe and has certified over 5,000 medical professionals in the United States.
(http://www.northernlymphology.com/index.php/treatments/kinesio-tape)